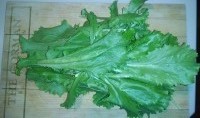 New Years Day 2016.
Last night I was pleased to find some of my greens from the greenhouse were ready to harvest and put into a fabulous New Years Salad for my wife and I to enjoy. We had it with some store bought cucumbers and one of the last onions from the garden this past summer. I made a quick little balsamic vinaigrette to go with it. Yummy!
I found that having fresh cut, home grown greens to go with my NY Eve meal was amazing. 5 years ago, I never could have imagined being able to have fresh grown lettuce, even in the summer, but today I have it. Now I am lucky – I have a greenhouse with power and lots of room, but that is not necessary to have some greens. All it takes is a window and a pot with soil and seeds.
I am looking forward to some beans and peas that are coming along, taking longer than they would in the spring, I think, because of the shorter day light times, but they are progressing. The warm days have helped me, heating the greenhouse has not been all that expensive. Heck I read a book about winter harvesting.This guy grows vegetables in unheated green houses and cold frames in Maine, so in Virginia it should work – right? Well, I was inspired this fall to put in some of our family's favorite greens and we got our first fruits yesterday!
I am really looking forward to planning the spring garden and getting the seeds started. Chime in if you know of a better way to get organized besides graph paper and a pencil, I have not found a decent app or program that comes close to the old pen and paper mechanism.
Happy New Year, one and all!