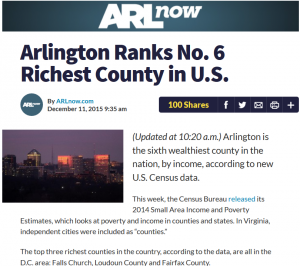 8 out of the top 20 richest counties are in the Washington, DC region – including four of the top six! We know what that means – lots of people in the DC are working multiple jobs with demanding schedules and lots of dual income homes.
That also means a lot of need for zen and less time available to deal with the little weekly challenges of vegetable around your home! Know what that means? Lots and lots and lots of people that need the tools and support that CrowdCrop provides!
Here's the summary of the interesting research our team grabbed from http://wtop.com/arlnow-com/2015/12/arlington-ranks-no-6-richest-county-in-u-s/ Are you in this list? How do you think your county should place in terms of need and demand for crowdcropping? 
Falls Church, VA ($125,635)
Loudoun County, VA ($122,641)
Fairfax County, VA ($110,507)
Los Alamos County, NM ($108,477)
Douglas County, CO ($107,250)
Arlington County, VA ($107,143)
Howard County, MD ($106,871)
Hunterdon County, NJ ($103,876)
San Mateo County, CA ($100,806)
Morris County, NJ ($100,511)
Somerset County, NJ ($100,194)
Nassau County, NY ($98,312)
Williamson County, TN ($97,936)
Delaware County, OH ($97,802)
Montgomery County, MD ($97,279)
Santa Clara County, CA ($97,219)
Marin County, CA ($94,549)
Putnam County, NY ($94,334)
Fairfax city, VA ($94,067)
Stafford County, VA ($92,647)